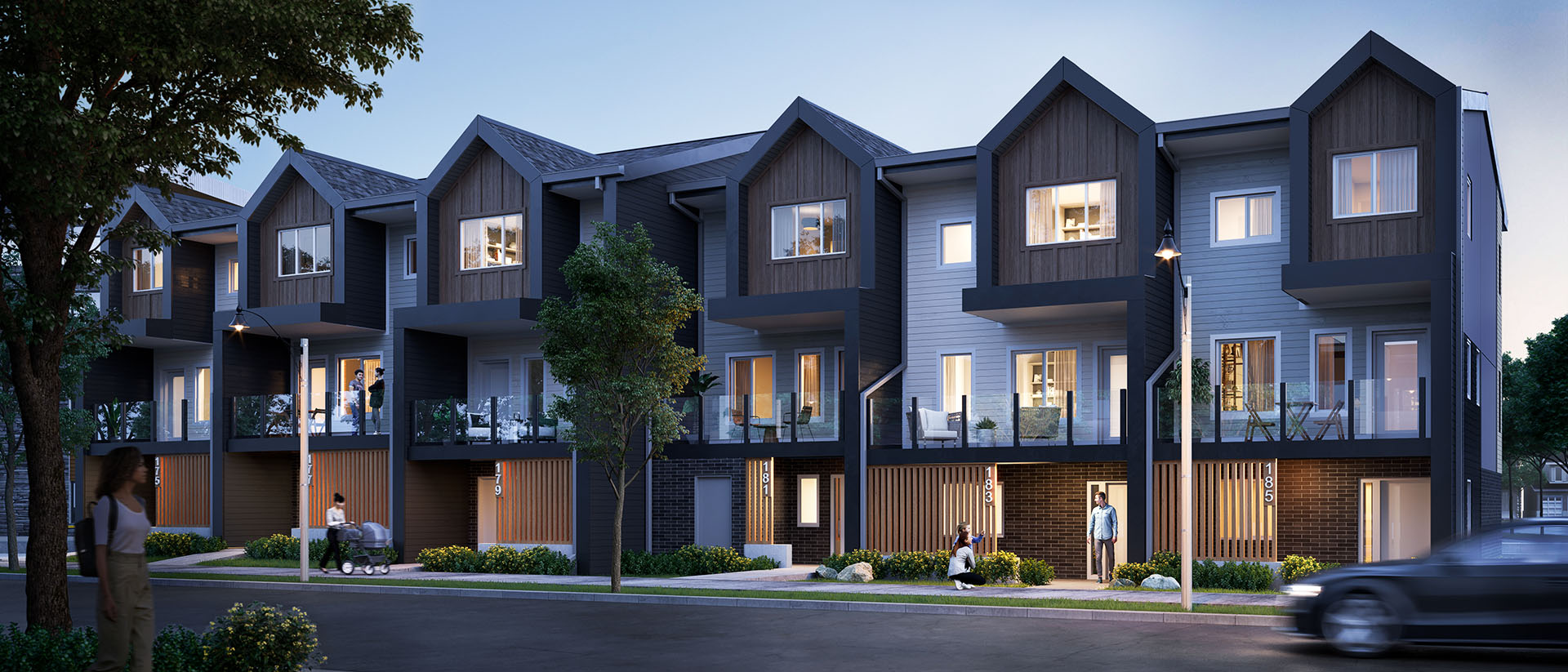 Brighton Village Rental Towns
Brighton Village Rentals' purpose-built townhomes are the next step in the development of Brighton's vibrant Village Centre, an innovative 14-acre complex that also includes apartments, office and high-street retail. With units that feature contemporary architecture, larger square footages, an attached garage, and outdoor living space, they're the perfect steppingstone when you're looking for more space but not yet ready to own.
Quality
Never sacrifice quality for flexibility. Say goodbye to shared hallways, noisy upstairs neighbours and trips to the parking garage and enjoy the perks of a modern home with privacy and space for you and your vehicle. This is your space, but we've done the heavy lifting for you.
Thoroughly modern
Brand-new townhomes in the heart of Saskatoon's premiere community, the units are built to the latest high-efficiency standards.
Simple and stylish
Each home offers quartz countertops, modern kitchens and durable yet attractive LVP flooring.
A bright idea
With large, oversized windows, natural light is plentiful within each suite, and the front porch and second-floor deck let residents enjoy the best of the summer season.
Upper floor laundry
Your days of lugging laundry up and down the stairs are over. From basket to closet, we've made it easy for you to get things done.
Staying cool
Enjoy the hot summer days while sleeping soundly during hot summer nights with individual air conditioning to each suite.
The gateway to Brighton
Located in Brighton Village along welcoming arrival ponds and with access to Brighton's Core Park and retail Marketplace in just a 5- and 10-minute walk, respectively, enjoy the very best Brighton has to offer.
Safety & Dependability
Professionally managed by Colliers and cared for by Dream means you have a dedicated team committed to ensuring the building always meets your expectations for safety. Use the tenant portal to voice your concerns, learn about community events, and rely on keyless entry for worry free security.
Trusted management
Backed by the experienced teams at Colliers and Dream, expect professionalism and care in every interaction. Your experience matters to us as we're just as invested in the community as you are.
User-friendly app
The convenient MyCafé tenant portal allows you to submit concerns, access your rental documentation, receive community announcements and hear about upcoming events, and pay your rent safely and securely.
Your own front door
Enjoy the peace of mind that comes with having a front door all your own. No more fretting about who's letting who in the building or package deliveries and Skip orders fussing with the buzzer.